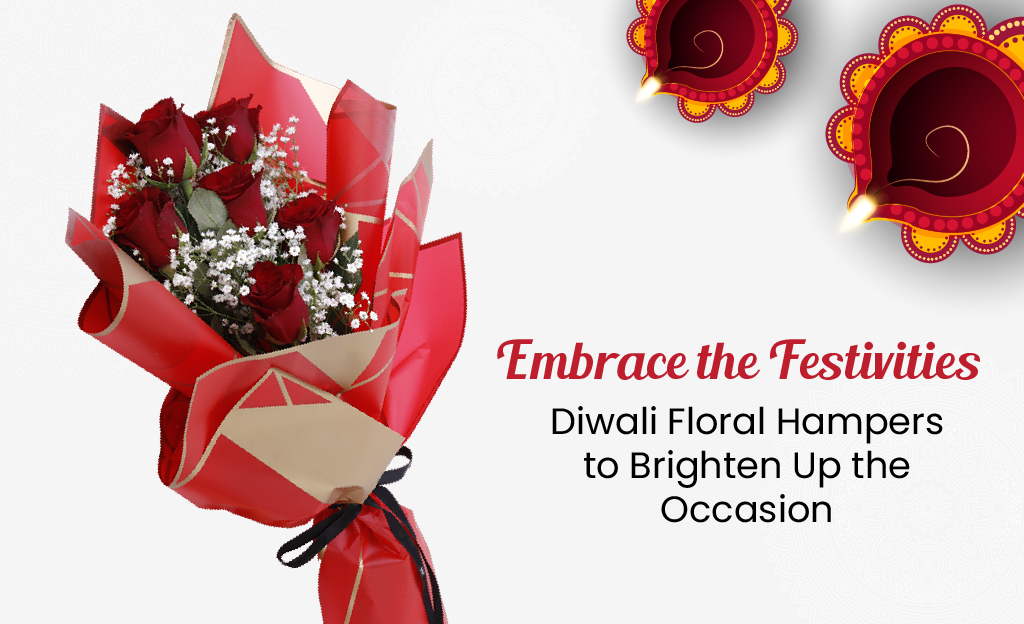 Embrace the Festivities: Diwali Floral Hampers to Brighten Up the Occasion
Diwali, known as the Festival of Lights, represents a season of happiness, unity, and the sharing of heartfelt gifts. Diwali floral hampers are a timeless and elegant choice among the many ways to convey your love and best wishes during this auspicious occasion. As the festival approaches, take the opportunity to send Diwali gifts to your loved ones in the UAE, expressing your affection and appreciation with carefully curated Diwali flower arrangements and exquisite gift hampers.
Choose from a variety of bouquets and hampers, such as traditional roses, lilies, and carnations, or opt for something more unique, like a hamper filled with chocolates and fruits. Show your loved ones that you care with a thoughtful gift this Diwali.
Send Diwali Gifts to Your Loved Ones in UAE – Express Joy!
Celebrate the essence of Diwali by sending heartfelt gifts to your loved ones in the UAE, embracing the spirit of love and joy that defines this auspicious occasion. Diwali, the Festival of Lights, is a time of togetherness and gratitude, and there's no better way to express your affection than by sending thoughtfully curated Diwali gifts. Whether it's an elegant floral arrangement, a luxurious gift hamper, or a personalized token of appreciation, let your chosen gifts convey the warmth of your emotions and the depth of your love. With each carefully selected item, you can brighten their festivities and create cherished memories that resonate with the spirit of Diwali. Let this season be a time of spreading happiness and strengthening the bonds that matter most. Gifting can be a beautiful way to show love and express gratitude. So, don't forget to send Diwali gifts to your loved ones in UAE!
Diwali Flowers Online: Illuminating the Festivities with Blooms!
Embracing the spirit of Diwali, the online market offers an array of vibrant and fragrant Diwali flowers to illuminate the festive season. With the ease of online shopping, sending Diwali flowers online to your dear ones in the UAE is more convenient. Choose from an assortment of colourful carnations, elegant roses, and aromatic lilies to design an enchanting floral arrangement that beautifully captures the spirit of the celebration. Enhance your Diwali floral arrangement with a delightful addition of a box of delicious chocolates. Make this festive season memorable with a gift from the heart.
Happy Diwali Flower Arrangements: Adding Splendour to the Celebrations!
Add extra splendour to the festivities with happy Diwali flower arrangements, creating an ambience of joy and celebration. From traditional flower decorations to contemporary floral bouquets, each collection reflects the vibrancy and spirit of the occasion. Elevate your Diwali celebrations with carefully curated flower arrangements that infuse your surroundings with beauty and positivity. Black Tulip Flowers- the premier florists in the UAE provide floral arrangements made with the freshest seasonal blooms and are sure to bring joy to your loved ones. We also offer various delivery services, including same day and midnight, to ensure your order arrives on time.
Diwali Flowers in Dubai: Spreading Joy and Goodwill!
Dubai, with its rich cultural diversity, eagerly welcomes the spirit of Diwali each year. The exchange of Diwali flowers in Dubai signifies spreading joy and goodwill among friends and family. Delight your loved ones with vibrant floral gifts that convey your warmest wishes and blessings, adding a touch of elegance to their festive celebrations. Choose from various unique floral arrangements, including fresh flowers, dried flowers, and wreaths. Let your special someone know you're thinking of them and show appreciation for their special day. Celebrate Diwali with your loved ones and shower them with joy and love.
Diwali Gift Hampers Online: Fostering Love and Togetherness!
Amidst the festive revelry, Diwali gift hampers are a perfect token of love and togetherness. With the ease of online shopping, you can explore a collection of Diwali gift hampers online, each filled with delightful treats, exquisite flowers, and thoughtful tokens. Choose the perfect Diwali gift hamper online to express your heartfelt emotions and strengthen your bonds with loved ones.
Diwali Flowers and Gifts Online: Symbol of Affection and Appreciation!
Diwali flowers and gifts online are a seamless and convenient way to convey affection and appreciation during the festive season. From intricately designed floral arrangements to personalized gift hampers, these online offerings embody the essence of Diwali, spreading love and joy to your friends and family in the UAE. Online delivery of Diwali flowers and gifts is also hassle-free and convenient, making it easy to send your greetings to your loved ones.
Online Diwali Flower Delivery in UAE: Timely and Hassle-Free Gifting!
With the convenience of online Diwali flower delivery in the UAE, you can ensure that your thoughtful gifts reach your loved ones promptly and hassle-free. Embrace the ease of online gifting and surprise your dear ones with the beauty and fragrance of fresh Diwali flowers, creating a memorable and cherished experience for all.
Buy & Send Fresh Flowers Online On Diwali: Spreading Happiness!
This Diwali spread happiness and prosperity by buying and sending fresh flowers online to your loved ones. With a simple click, select from a stunning array of fresh, fragrant flowers, creating an unforgettable gifting experience that reflects your warmest wishes and blessings. A bunch of freshly picked flowers is a simple way to express gratitude and affection. Choose from various colours, sizes and varieties to find the perfect one for your loved ones. Buy & send fresh flowers online on Diwali and make someone's day extra special.
Diwali Flowers to UAE: Bridging the Distance with Love and Affection!
For those separated by distance, sending Diwali flowers to the UAE is a beautiful way to bridge the gap and convey your love and affection. Let the vibrant colours and enchanting fragrances of Diwali flowers symbolize the bond that transcends miles, bringing joy and togetherness to your loved ones' celebrations.
Flowers serve as an eternal expression of love and gratitude. With Diwali approaching, it's the ideal moment to spread your love and affection. Show your loved ones how much you care with a thoughtful bouquet of Diwali flowers at 15% off with code "NEW15" from Black Tulip Flowers, the finest florist in the UAE!