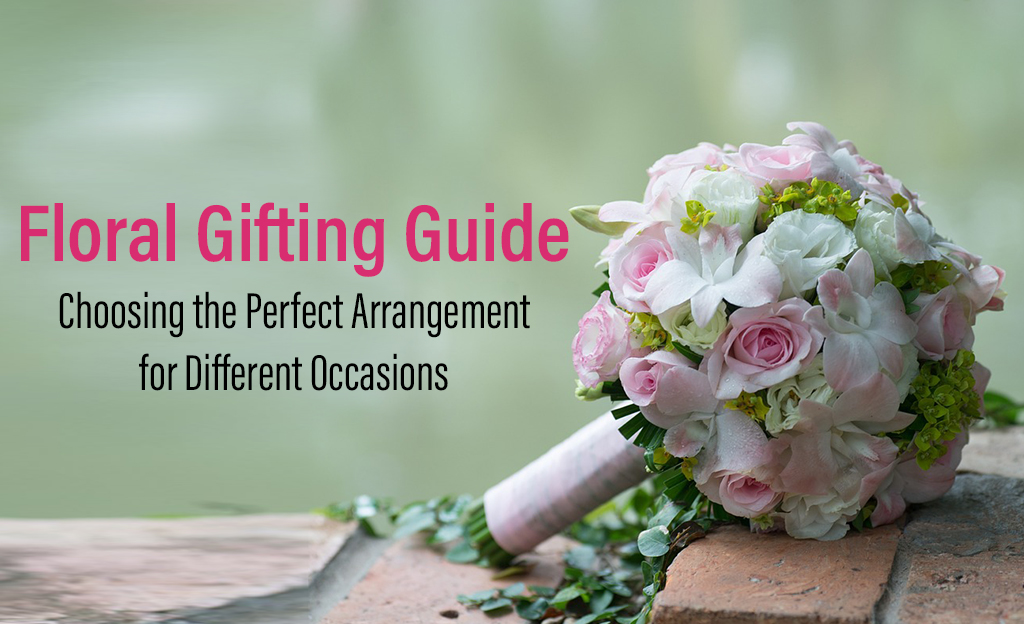 Floral Gifting Guide: Choosing the Perfect Arrangement for Different Occasions
Flowers have long been a symbol of love, appreciation, and celebration. They carry the power to convey emotions and sentiments that words often fail to express. In the vibrant and bustling city of Dubai, where moments of joy and celebration are a part of everyday life, the significance of floral gifts cannot be underestimated. Whether it's a birthday, anniversary, or any other special occasion, flowers and gifts go hand in hand to make the moments even more memorable.
Black Tulip Flowers, one of the UAE's premier flower boutiques, understands the importance of choosing the perfect floral arrangement for different occasions. In this floral gifting guide, we'll take you through a journey of selecting the ideal flowers and gifts for various events, focusing on the best birthday gifts in Dubai. Let's explore the world of floral gifting and discover how to make each occasion extraordinary.
Flowers and Gifts: A Timeless Expression of Love
Flowers and gifts have always held a special place in human culture. They are a timeless expression of love, affection, and gratitude. Whether you want to show appreciation to a friend, express your love to a partner, or celebrate a milestone, flowers are a classic choice that always stays in style. In Dubai, a city known for its opulence and grandeur, the act of giving flowers and gifts takes on an even more significant meaning. The right bouquet or arrangement can turn an ordinary day into an extraordinary one and leave a lasting impression.
The Best Birthday Gifts in Dubai
Birthdays are a universal occasion for celebration, celebrated with unmatched grandeur. Choosing the best birthday gift in Dubai can be a delightful experience when you opt for flowers and gifts. Black Tulip Flowers presents an exquisite range of flower bouquets and arrangements that will leave your loved one's day unforgettable.
Personalized Birthday Bouquets
When selecting a birthday gift, consider the recipient's preferences and personality. Personalized birthday bouquets allow you to create a unique and meaningful gift. Choose their favourite flowers, colours, and styles to craft a flower bouquet that speaks to their individuality. The possibilities are endless, whether it's a vibrant mix of roses and lilies or an elegant arrangement of orchids.
Luxurious Flower Boxes
For a touch of luxury, consider gifting a flower box. We meticulously craft these exquisite arrangements and carefully place the flowers in an elegant box. Flower boxes are not only visually stunning but also a convenient way to display and preserve the beauty of the blooms. Opt for a heart-shaped box to express your love or a black box for a modern touch.
Stunning Flower Baskets
Flower baskets are a versatile and charming choice for gifting someone special, filled with various flowers and adorned with ribbons and bows. You can add a personal touch by including a message card or a small gift alongside the flowers. Flower baskets make for a delightful surprise that captures the essence of the occasion.
Flower Shops in Dubai: Where to Find the Perfect Arrangement
There are plenty of flower shops in a city as cosmopolitan as Dubai. However, choosing a reputable flower boutique is
essential to ensure that you find the perfect arrangement for your special occasion. Black Tulip Flowers is a prominent name in the UAE's floral industry, known for its exceptional craftsmanship and commitment to customer satisfaction.
Expert Floral Designers
The expertise of the floral designers at Black Tulip Flowers sets them apart. Our creativity knows no bounds, and we can turn your vision into a breathtaking reality. Whether you have a specific design in mind or need guidance in choosing the right flowers and colours, the expert designers at Black Tulip Flowers are here to assist you.
Fresh and High-Quality Blooms
Quality matters when it comes to flowers. Black Tulip Flowers takes pride in sourcing the freshest and most beautiful blooms available. Each flower bouquet is carefully curated to ensure freshness and vitality, making it a memorable and long-lasting gift.
Convenient Delivery Options
In a bustling city like Dubai, convenience is vital. Black Tulip Flowers offers a range of delivery options to ensure that your floral gifts reach their destination promptly and in perfect condition. Whether you want same-day delivery or wish to schedule a surprise delivery at a specific time, they have you covered.
UAE-Based Flower Boutiques: A Blend of Tradition and Innovation
Dubai is a melting pot of cultures; its flower boutiques reflect this diversity. UAE-based flower boutiques like Black Tulip Flowers combine traditional floral artistry with modern design concepts—this blend of tradition and innovation results in floral arrangements that are visually stunning and culturally significant.
Cultural Significance of Flowers
Different cultures attach varying symbolism to flowers; it's essential to be mindful of these nuances in Dubai. Flowers like roses, lilies, and orchids are universally appreciated, but understanding the cultural significance of specific blooms can add a personal touch to your gift. UAE-based flower boutiques are well-versed in these customs and can help you choose the right flowers for the occasion.
Unique Arrangements Inspired by Tradition
One of the unique aspects of UAE-based flower boutiques is their ability to infuse traditional elements into modern floral arrangements. Whether incorporating Arabic calligraphy into a flower bouquet or using standard Emirati colours and motifs, these boutiques can create collections that resonate with the local culture while maintaining a global
appeal.
An Easy Guide to Sending Gifts in the UAE
Sending gifts in the UAE, especially in a bustling metropolis like Dubai, can be seamless with the proper guidance. Here's an easy guide to ensure your floral gifts reach their intended recipient without any hassles:
Plan Ahead
Planning is crucial, especially for special occasions. Start by identifying the event, the recipient, and your budget. Being aware of these specifics will aid you in determining the ideal timing for choosing flowers and gifts.
Choose a Reputable Flower Boutique
Selecting a reputable flower boutique like Black Tulip Flowers ensures the quality and reliability of your floral gifts. Read reviews, check the website, and inquire about the delivery options to make an informed choice.
Consider Delivery Timing
In Dubai's fast-paced environment, timing is everything. Choose a delivery time that aligns with the occasion if you want to surprise someone on their birthday or celebrate an anniversary. Same-day and midnight deliveries are often available.
Personalize Your Message
A heartfelt message can make your floral gift even more special. Take the time to write a thoughtful message that conveys your sentiments. Many flower boutiques offer complimentary greeting cards for this purpose.
Track Your Delivery
To ensure a smooth delivery process, consider tracking your gift. Many flower boutiques provide tracking services, allowing you to monitor the status of your delivery in real time.
In Dubai, the act of giving flowers and gifts is a way to celebrate life's moments, both big and small, and to express love, gratitude, and appreciation. Whether looking for the best birthday gifts in Dubai or planning to celebrate any other occasion, flowers and gifts from UAE-based flower boutiques like Black Tulip Flowers are the perfect choice.
With expert floral designers, high-quality blooms, and a commitment to tradition and innovation, Black Tulip Flowers offers a world of possibilities for floral gifting. Follow our easy guide to sending gifts in the UAE, and you'll find that making someone's day extraordinary is just a bouquet away. So, embrace the beauty of flowers and let them speak the language of your heart on every occasion.