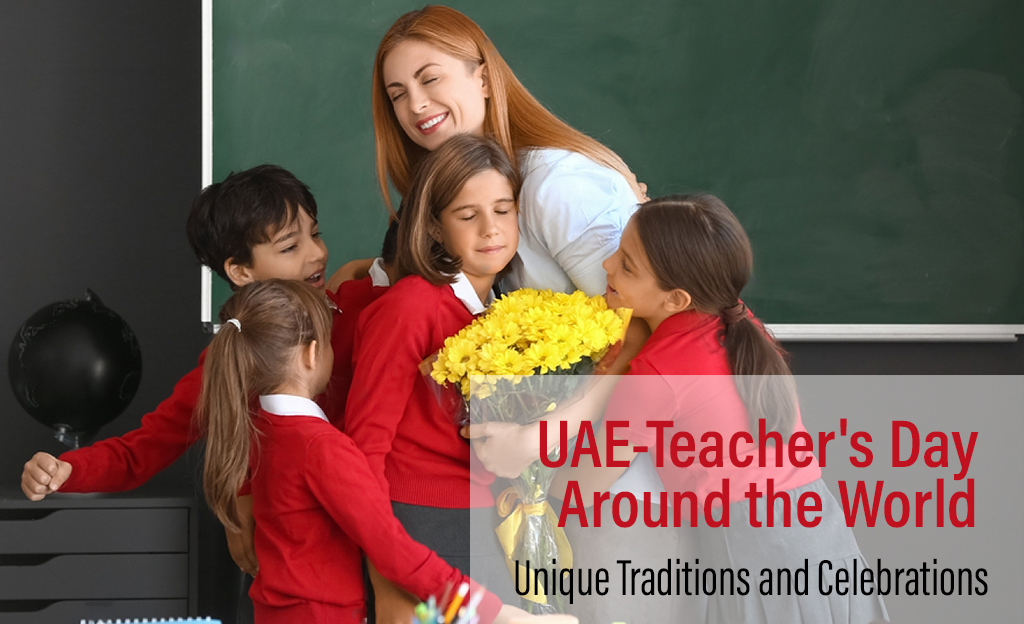 Teacher's Day Around the World: Unique Traditions and Celebrations
Introduction: The significance of Teacher's Day globally
        Teacher's Day holds immense significance globally as it serves as a dedicated occasion to celebrate and honour the profound impact of educators on society. This occasion, though marked on different dates in various countries, universally acknowledges the pivotal role teachers play in shaping the future. Teachers are not only dispensers of knowledge but also mentors, guiding lights, and inspirations to countless individuals. They mould young minds, instil values, and impart skills that empower students to navigate the world's complexities. Teacher's Day in the UAE provides a meaningful occasion to convey appreciation for the tireless dedication, steadfast commitment, and profound impact of educators. It serves as a poignant reminder of education's fundamental role in fostering progress and acknowledges teachers as the architects of a brighter and more enlightened future. In a world where knowledge is paramount, Teacher's Day transcends geographical boundaries, cultural differences, and language barriers, highlighting the global importance of the teaching profession. There exist numerous ways to express gratitude to teachers, with one of the most touching gestures being the delivery of beautiful Teachers Day Flowers in Dubai. For a unique touch, considering sending Teachers Day Unique Gifts in Dubai can also be a heartfelt choice.
Exploring diverse Teacher's Day tradition
       It is an opportunity for students to express their gratitude to their educators through Teachers' Day celebrations. This blog is to delve into the rich tapestry of Teacher's Day traditions from around the world. While the concept of honouring teachers is universal, the ways in which it is celebrated can be incredibly diverse and culturally nuanced. Through this exploration, we aim to shed light on the various customs, rituals, and practices associated with Teacher's Day in different countries. In an effort to empower the teachers in our society, let's cultivate an appreciation of the unique cultural diversity that exists within them. In an increasingly interconnected world, it's essential to have a global perspective on how teachers are celebrated all over the world. Mainly in UAE, one of the common cultural practices is availing the best Teachers Day Gift in Dubai. 
Honouring India's Educational Legacy: Celebrating Dr. Sarvepalli Radhakrishnan's Birthday
        Teacher's Day in India, celebrated on September 5th, is a cherished occasion. It's a day devoted to honouring Dr. Sarvepalli Radhakrishnan, a renowned philosopher and India's second President. This Day signifies respect not just for one person but for the entire teaching profession. Dr. Radhakrishnan's birthday was chosen as Teacher's Day due to his deep appreciation for education and teachers' role in society. The celebration in India is marked by enthusiasm, traditional ceremonies, and decorations. Students nationwide come together to express gratitude to their teachers, and schools often organize special programs where students emulate their teachers' teaching styles and assume the role of educators. Some of the typical traditional ceremonies and decorations associated with Teacher's Day in India are,
Felicitation Ceremonies: Many schools hold special ceremonies to honour teachers. During these events, students give flowers, gifts, or handmade cards as a way of showing appreciation. These gatherings often feature speeches, music, and performances dedicated to their teachers.
Saraswati Puja: In some parts of India, like West Bengal, people celebrate Teacher's Day with Saraswati Puja. The Hindu goddess Saraswati is believed to have the power to impart knowledge and wisdom. Students and teachers pray and seek blessings for academic success on this Day.
Flower Arrangements: Flowers are a key part of Teacher's Day decor. Students frequently use marigolds and roses to make lovely floral displays in classrooms and around the school. Flowers represent purity and admiration. Rangoli, intricate designs made with coloured powders or flower petals, is a popular decoration for Teacher's Day.
Embracing Excellence: Teacher's Day in the UAE
       Teacher's Day in the United Arab Emirates (UAE) is a special occasion dedicated to recognizing the invaluable contributions of teachers to the nation's education system and the overall development of society. In the UAE, Teacher's Day is celebrated on the 5th of October each year. It provides an opportunity to empower, acknowledge, and express gratitude to teachers for their invaluable contributions. On this Day, senior students organize various games and activities as a gesture of love and respect. Teachers receive special Teacher's Day gifts, Teacher's Day flowers, gift hampers, greeting cards, and personalized tokens of appreciation to convey thanks for their unwavering dedication, support, and the valuable life lessons they impart. On this Day, students and educational institutions across the UAE express their gratitude and appreciation to teachers for their hard work, dedication, and commitment to nurturing young minds. It's a time when students reflect on the impact of their teachers and the role they play in shaping their futures.
Traditional Attire: On Teacher's Day, it's customary for students to dress in traditional UAE attire, such as kanduras for boys and abayas for girls, to add a cultural touch to the celebrations.
Decorations: Many educational institutions decorate classrooms, corridors, and common areas with colourful banners, posters, and beautiful Teacher's Day Flowers to create a festive atmosphere.
Cultural Celebrations: The UAE's diverse population adds cultural richness to Teacher's Day celebrations. Students from various backgrounds may share their cultural traditions, music, and food as a form of appreciation.
Chinese Teacher's Day: Celebrating Educators with Special Performances and Ceremonies
        On this Day, every September 10th in China, is Teachers' Day, with an annual theme set by the Ministry of Education. So, students of all ages, especially young ones, give us small, homemade gifts and teacher's day flower bouquets to show their appreciation for each of their teachers' hard work. This Day is also when alumni will visit their old schools to catch up with their former teachers.
Gift Giving: Students often present Teachers Day Unique Gifts, Teachers Day Flowers, and handwritten cards to their teachers as tokens of appreciation. These gifts may be prepared in advance or presented during the ceremonies.
Community Involvement: Teacher's Day celebrations may extend beyond the school to involve the local community. Community members may join the festivities to express their gratitude and support for teachers.
Cultural Exhibitions: Students may set up exhibitions showcasing their cultural heritage, artwork, and projects to celebrate diversity and education. These exhibitions may also highlight the achievements of teachers and the school's educational journey.
       Red and white blossoms hold a special significance on Teacher's Day, serving as powerful symbols of appreciation and gratitude. Red flowers, often roses, convey deep admiration and respect for teachers, signifying the passion and dedication they bring to their profession. White flowers, on the other hand, symbolize purity and the sincere intentions of both students and educators. When combined, these colours create a beautiful bouquet that speaks volumes of mutual respect and the profound teacher-student relationship.
Conclusion: Honouring Teachers Worldwide & Teacher's Day Traditions 
       In conclusion, the diverse Teacher's Day traditions observed across the globe are a testament to the universal importance of educators in our lives. From the vibrant celebrations in India to the thoughtful ceremonies in the UAE and the remarkable performances in China, these traditions reflect the deep-seated respect and gratitude societies hold for their teachers.
       Show your appreciation to the individuals who have shaped your character, enriched your knowledge, and contributed to your personal growth by sending online Teacher's Day flowers. At Black Tulip Flowers, you can explore a delightful variety of blooms, including roses, lilies, carnations, orchids, birds of paradise, anthuriums, and gerbera daisies, among others, which are among the most popular choices for celebrating teachers online. These exquisite flowers come in an array of colours, like red, white, pink, yellow, orange, and green. Our talented florists have skillfully crafted breathtaking bunches, bouquets, as well as vase, basket, or box arrangements that are sure to captivate your teachers. You can even opt for flower combos paired with cakes, chocolates, personalized mugs, or dry fruits to make your gesture even more special. Additionally, we offer refreshing plants as Teacher's Day gifts. Sending these wonderful tokens of appreciation to your favourite teachers is hassle-free with our same-day, next-day, or express delivery services. So, don't delay—select a charming Teacher's Day flower bouquet today and make this Day truly memorable for them.