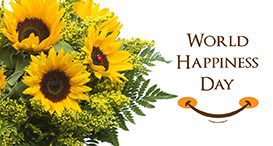 7 Affordable Ways to Say I Love You
Valentine's Day
Valentine's Day is celebrated on 14th February every year across the globe by couples to show their love, affection and respect to their spouse, partners and sweethearts.
This day is dedicated for love by lovers all over the world. Usually people wait for this day to propose their love.
Black Tulip Flowers, the best online shop in UAE, you can send Valentine's day gift to Dubai with ease.
Valentine Week Days List
This day is a special day, not only for couples for every person who wants to say their love to someone special.
Is it not surprising to hear that the entire week before Valentine's Day is dedicated to the celebration of love?
Here are the names of the day
7th Feb, Rose Day
8th Feb, Propose Day
9th Feb, Chocolate Day
10th Feb, Teddy Day
11th Feb, Promise Day
12th Feb, Hug Day
13th Feb, Kiss Day
14th Feb, Valentine,s Day
7 ways to say I love you
You can say your love to your partner, spouse or sweetheart by sending online Valentine flowers in Dubai with Blacktulip Flowers.
In general, Valentine's Day is seen as a day to express your love or propose your love to your partner. It is not necessary to say your love in a grand manner with a diamond ring or costly gifts.
Even flowers express love more than anything. You can propose or express love in some affordable ways.
Your smile says it all
With the smile in your partner's face, you can say it sweetly by "your smile says it all -that you love me" and you are my life.
You can say it with a Special Heart flower arrangement from Black Tulip Flowers.
Everybody in the world say, "you can fall in love only once-but I will say it can't be true because every time when I look at you, I fall in love.
It sounds better to say it with Romance Arrangement, a red rose bouquet
Express your love in a modest way – The world is a better place to live in with you in it. This shows your love and how the partner mean to you.
As there are many ways to say I love you, you can say it simple and short expressing it strongly by saying -"We are meant to be for each other!"
By saying "Meeting you was the best thing in my life that ever happened to me" would strongly express the love have for your partner.
Express your love with a Pink Proposal-"I would like to spend the rest of my life together with you"
Send Valentine's Day gifts online and express your love to your partner or spouse or someone special.
Black Tulip Flowers has variety of gifts other than flowers for Valentine Gift Ideas in UAE.
Visit us online to see our full product range and make use of our daily deals and coupons for your online Valentine's Day gift delivery in Dubai this festive season.
Black Tulip Flowers wishes all its valuable clients a Happy & a romantic Valentine's Day!