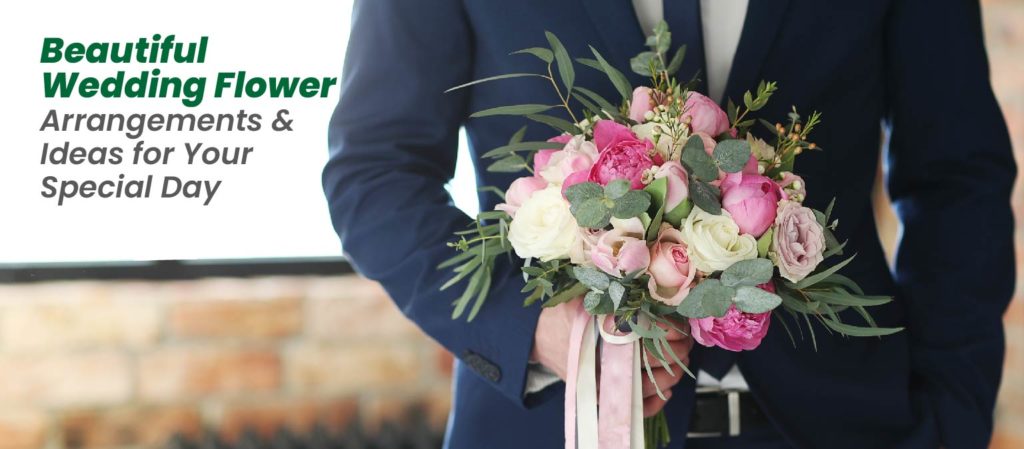 Beautiful Wedding Flower Arrangements and Ideas for Your Special Day
Creating the Perfect Wedding Flower Arrangements!
When planning your outdoor wedding flower arrangements play a critical role in elevating the ambience and adding a touch of elegance. The right floral decorations can transform your outdoor venue into a magical setting that reflects your unique style and creates a memorable experience for you and your guests. It is essential to collaborate with an experienced florist who can assist you in selecting the ideal flowers for your wedding, crafting stunning arrangements, and achieving perfect floral decorations. Additionally, it would be best to consider the season and climate when choosing flowers to ensure they bloom and last throughout the ceremony. Black Tulip Flowers – is one of the renowned florists in the UAE who specialize in creating stunning wedding flower arrangements. With our wedding flower delivery service in Dubai, you can ensure your special day has the most beautiful blooms.
Choosing the Perfect Wedding Bouquet!
The wedding bouquet is undoubtedly the star of the show regarding flower arrangements. It is a reflection of your style and serves as the finishing touch to your bridal ensemble. The wedding bouquet chosen must match the wedding ambience and fit the bride's personality and dress. It is important to choose flowers that are in season so they are fresh and vibrant. Consider the shape of the bouquet as well, as this will affect the overall look. At Black Tulip Flowers, we offer a wide range of options for wedding bouquet delivery in Dubai. Whether you prefer a classic all-white arrangement or a vibrant and colourful mix of blooms, our expert florists will work closely with you to design a bouquet that perfectly complements your wedding theme and captures the essence of your love story.
Wedding Flower Arrangements That Make a Statement!
In addition to the bridal bouquet, numerous other flower arrangements can enhance the beauty of your outdoor wedding venue. The possibilities are endless, from stunning centrepieces for your reception tables to charming floral arches for your ceremony backdrop. Other options include floral accents for pathways, hanging floral pieces, and flower petals for a romantic aisle. Regardless of your choice, a well-executed design will ensure your guests remember your special day for years.
Black Tulip Flowers specializes in creating eye-catching wedding flower decorations that make a statement. We carefully select each flower for its freshness, vibrant colours, and excellent shape to ensure that every arrangement is a work of art.
Wedding Flowers Dubai: Celebrate in Style!
With its stunning landscapes and iconic architecture, Dubai provides a breathtaking backdrop for outdoor weddings. To truly embrace the beauty of this city, incorporating locally sourced wedding flowers is a must. At Black Tulip Flowers, we source the finest flowers from our farms, ensuring that your wedding flower arrangements are exquisite and pay homage to the city's vibrant spirit.
Wedding Bouquet Dubai: Uniquely Yours!
Your wedding bouquet should reflect your style and preferences. Whether you desire a traditional bouquet or a contemporary arrangement with exotic blooms, you should select the perfect florists to bring your vision to life. Black Tulip Flowers' wedding bouquet delivery service in Dubai offers luxury flowers, and our talented florists create masterpieces according to your style and need.
Wedding Flower Bouquet: Symbolize Your Love!
Every flower has a unique meaning, and incorporating symbolism into your wedding flower bouquet adds an extra layer of sentiment to your special day. For instance, roses symbolize love and passion, whereas daisies embody innocence and purity. Orchids signify beauty and refinement, while lilies embody elegance and grace. Choosing the right flowers for your wedding bouquet can help create a meaningful and memorable day.
From the timeless roses symbolizing love and passion to the delicate lilies representing purity, our Black Tulip Flowers can help you choose the perfect wedding flower arrangement that align with the emotions you want to convey on your wedding day. 
Conclusion:
Your outdoor wedding deserves the most exquisite flower arrangements to create an unforgettable atmosphere. With Black Tulip Flowers' wedding flower delivery service in Dubai, you can have stunning wedding bouquets and arrangements that perfectly capture your style and emotions. Trust our experienced florists to bring your vision to life and make your special day extraordinary. Contact us today to discuss your wedding flower needs, and let us create magical moments through the power of flowers.