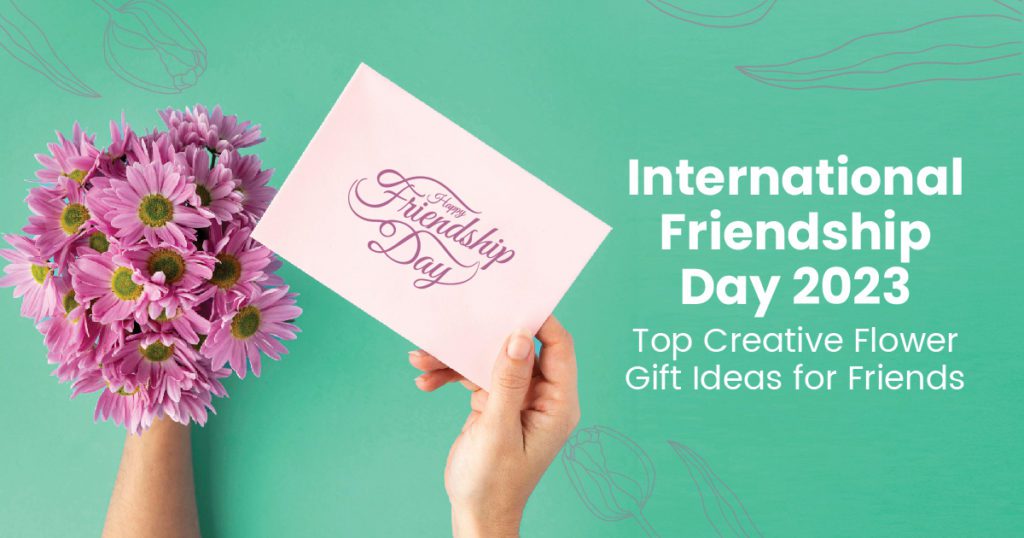 International Friendship Day 2023 – Top Creative Flower Gift Ideas for Friends
International Friendship Day- Celebrate with Flowers!
International Friendship Day is an occasion dedicated to honouring the cherished connections we share with our friends. It is a remarkable opportunity to express our heartfelt gratitude and convey our friends' profound significance. Among the diverse ways to share this sentiment, the timeless tradition of gifting flowers is a beautiful and imaginative choice. With their captivating allure and delicate elegance, flowers possess the ability to convey emotions that words often fail to capture. They serve as a tangible representation of the bond we share with our friends, symbolizing the beauty and resilience of our Friendship. We can express our admiration, appreciation, and unwavering support for our cherished companions by thoughtfully selecting a flower arrangement. International Friendship Day serves as an extraordinary occasion to celebrate the profound bonds of Friendship that enrich our lives. By embracing the timeless tradition of gifting flowers, we can express our heartfelt appreciation and admiration for our friends. This blog post will explore creative flower gift ideas tailored explicitly for International Friendship Day 2023. Moreover, we will equip you with invaluable tips to assist you in selecting the ideal floral arrangement for your esteemed friend.
Friendship Day Flowers – A Timeless Gesture of Love!
With their vibrant colours and pleasing aromas, flowers make the perfect way to express your feelings and show that you care. They possess a unique language that can convey emotions without words. On Friendship Day presenting your friends with beautiful blooms is a meaningful gesture that will touch their hearts and strengthen your bond. Here are some creative flower gift ideas to inspire you:
Friendship Bouquet – A Burst of Colorful Affection
A friendship bouquet is a classic choice that never fails to impress. Create a vibrant bouquet using flowers that symbolize Friendship, such as yellow roses, sunflowers, or yellow tulips. The bright hues will represent the warmth and happiness that your Friendship brings. Adding contrasting flowers or foliage enhances the visual appeal and creates a personalized touch.
Personalized Floral Arrangement – A Blossoming Token of Appreciation
Make your friend feel truly special by gifting them a personalized floral arrangement. Consider their favourite flowers or colours and incorporate them into a stunning collection. You can also add some unique elements like small photographs or handwritten notes attached to the stems of the flowers. This thoughtful gesture will remind your friend of all the beautiful memories you've shared.
Succulents – A Symbol of Lasting Friendship
Consider gifting your friend a charming jar filled with succulent plants for a unique twist on Friendship Day flowers. Succulents are not only visually appealing but also represent endurance and resilience. They require minimal care, making them a perfect representation of a lasting friendship. Your friend can place this adorable jar of greenery on their desk or windowsill, constantly reminding them of your bond.
Flower Subscription Box – A Continuous Expression of Friendship
Why limit your Friendship Day gift to a single day when you can extend the celebration throughout the year? Surprise your friend with a flower subscription box that delivers fresh blooms to their doorstep on a regular basis. This delightful gift will bring joy and beauty to their lives long after Friendship Day has passed. Each delivery will serve as a reminder of your thoughtfulness and the everlasting nature of your Friendship.
 Friendship Day Bouquets – Expressing Individuality and Style
Every Friendship is unique, just like the individuals involved. Whether it's an elegant arrangement of lilies, a romantic
a mix of roses, or a playful assortment of daisies, this personalized gift will make them feel exceptional. A friendship bouquet is a classic yet always appreciated gift choice. It allows you to create a stunning arrangement using flowers that symbolize Friendship, such as sunflowers, yellow roses, or gerbera daisies. These vibrant blooms will radiate joy, warmth, and appreciation. To add a personal touch, consider incorporating your friend's favourite flowers or including a handwritten note expressing your gratitude for their Friendship. Show your friends that you value their individuality by gifting them a customized bouquet. Select a combination of flowers that reflects their personality, interests, or favourite colours.
Friendship Day Bouquets Using The Favourite Flowers Of Your Friends!
Friendship Day Bouquets using the favourite flowers of your friends make a unique and personalized way to honour
this special bond. By selecting their preferred blooms, you demonstrate attentiveness and consideration, enhancing the sentiment behind the gesture. A professional floral designer creates bespoke arrangements and can assist
in curating a meaningful bouquet that embodies the essence of your Friendship. The choice of flowers represents sentiments associated with different blooms or personal preferences, such as roses symbolizing love or sunflowers
representing happiness. Incorporating their favourite colours further adds significance, reflecting their individuality and taste. From vibrant lilies to delicate daisies, each flower conveys its message while collectively forming a visual representation of your cherished connection. Celebrating Friendship Day with thoughtfully curated bouquets ensures a
memorable experience that captures the essence of Friendship elegantly and sophisticatedly.
Friendship Day 2023 – Embrace Everlasting Bonds 
If you want to go the extra mile and create a lasting impression, consider gifting a Friendship Day flower hamper. These beautifully curated hampers can include a combination of flowers, chocolates, scented candles, or even
personalized gifts. With various options available, you can select a hamper that perfectly matches your friend's preferences and interests, making it a genuinely thoughtful and delightful gift.
For a gift that symbolizes the eternal nature of your Friendship, consider gifting Forever Roses on Friendship Day 2023. These exquisitely preserved roses from Black Tulip Flowers are real roses preserved to last for years without wilting. Available in various colours, Forever Roses will constantly remind you of your enduring bond and shared memories.
Happy Friendship Day Flowers for Your Special Friend!
On International Friendship Day 2023, express your love, appreciation, and gratitude for your friends with creative flower gifts from Black Tulip Flowers. Whether it's a vibrant friendship bouquet, a personalized flower arrangement,
Forever Roses, or a flower hamper, these gifts will undoubtedly make your friends feel cherished and valued. Let your friends know that their presence in your life is a gift. Celebrate the beauty of Friendship and make this Friendship Day memorable with our exquisite "Happy Friendship Day Flowers".