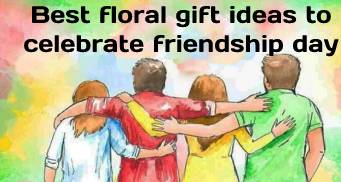 Best floral gift ideas in 2022 to celebrate friendship day
Friendship Day is the celebration of bonding and love that you share with your friends, the first friendship day was held in 1958. National Friendship Day is celebrated every year on the 1st Sunday of August, and this year, it falls on August 1, 2021. Friendship is understanding you're on a voyage with someone while enjoying it together, caring for each other, and supportive and unconditional love. Friendship is a relationship that is not gifted by birth but is made right by us, and they are the ones who always support us in our life. Friends can make a simple moment memorable and unforgettable.
Why we celebrate International Friendship Day ?
Friendship is one of the most significant and treasured things in our life. This day is celebrated to honour and thank our friends we have made in our life. And Friendship Day is an opportunity to realize how important your friends are and show unconditional love and support to your friends. Friendship Day is celebrated every year with friends, they may be a classmate at school, a colleague or they may live in another country or virtual friends you have made online.
Perfect Friendship Day Flower Gifts
Celebrating this Friendship Day with a great gift with our best Friendship Day Flowers is a great way to show them how important they are to you! Undoubtedly, flowers are the beautiful creations of God and one of the most loving gifts to surprise or wish someone. Sending Friendship Day Flowers Online to your friends is a thoughtful way to let them know how much you love them.
For your Best Friend
Friends are the people who observe all your ups and downs, they are always there when you need them, make them feel special and more important on this Friendship Day by sending our Friendship Day Flowers.
Bunch of mix flowers with Pink Hydrangeas
Wooden Floral Arrangement
50 Stem Red Roses
Yellow Rose Shower Bouquet
 You can send a bouquet of flowers and add on his or her favourite chocolates as a gift to your friends on this Friendship Day. You can also personalize the box of chocolates by covering it with small notes of quotes about Friendship. Choose a variety of Friendship Day Flower Gifts from our online portal Black Tulip Dubai for the best Friendship Day Flowers for your friend.
For your New Friend
Gifts have always been an important role in strengthening the relationships, especially if it is new and make it precious and lively with the flower gifts that will show your care and love for each other.
Truthful White
Box of Hydrangeas
30 Pink Rose Bouquet
Delicate Purple Bouquet
These beautiful collections will be a great gift for your new friend, and you can express how much you value the friendship with him or her. Send Friendship Day Flowers Online from our best florist in UAE with personalized Friendship Day wishes, and you can also choose a variety of cakes which are available in several flavors. Visit our online portal for the best gift for Friendship Day at Black Tulips Dubai.
For your Forever Friend
Sometimes a forever friend is the only thing you need because this kind of friend can understand you well and know all your flaws but still loves you. Â Add more joy to this Friendship Day by presenting a Flower Gift to your forever friend.Â
Pink Centric Bouquet
Be Blue Hydrangea Bouquet
Wrapped with Love
Mixed Emotions Bouquet
An attractive bouquet of beautiful flower gifts can create the best impression and show your emotions in the best conceivable way. Choose a variety of Friendship Day Flowers Online for your besties on this Friendship Day from UAE's Best Online Flower Delivery Black Tulip Flowers.
A nice flower arrangement or bouquet is a timeless gift that your friend will appreciate for weeks to come. Send his or her personal favorites, whether those are roses, lilies, tulips or chrysanthemums, we have lots of collections at our Friendship Day Flower Gifts.
Make your friendship stronger and happier and treasure its memories forever by celebrating this Friendship Day with fantastic flower gifts online by Black Tulips Dubai.
Celebrate this Friendship Day with best and unique flower gifts for your friend and make them even more special. Shop your favorite flower gifts online from the convenience of your couch with UAE s best online flower delivery Black Tulip Flowers.
Check out our wide range of collections of Friendship Day flowers online at our online portal Black Tulip Flowers Dubai and order for timely yet fresh delivery.
Send online flower gifts for your friends from UAE's best online flower delivery and makes them feel special on this Friendship Day.
Online flower delivery is the best choice for a final search for a flower gift in UAE. Black Tulip Flowers Dubai helps to send online flowery delivery anywhere in UAE.
Send the best gifts for your friends at their doorstep, it is more conveniently than ever before with Black Tulip Flowers Dubai.