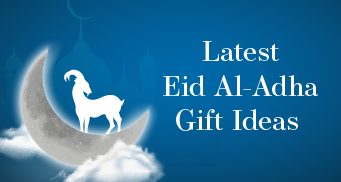 Celebrate Eid Al Adha with Blessing Gifts for your Loved Ones
Celebrate Eid Al Adha with Blessing Gifts for your Loved Ones
Eid a Thanksgiving Day.
Each Eid is a Thanksgiving Day where the peoples gather in a brotherly and ecstatic atmosphere to offer their thankfulness to Allah for helping them to achieve their divine duties prior to Eid. Eid-ul-Adha is the festivity of sacrifice. During Eid-ul-Adha we recall the spirit of Prophet Abraham (peace be upon him) and how he was enthusiastic to sacrifice the person he loved the most because it was Allah's order which he had to follow no matter what! Eid-ul-Adha ends the period of Hajj. Each year, about 3 million people go to Mecca and perform the pilgrimage.
The act of sacrificing and then distributing also represents our readiness to give up some of our own abundances in order to reinforce bonds of relationship and help those who are in need. On this occasion, we realized that all blessings come from Allah, and we should open our hearts and share the love with others.
Everyone loves gifts. Giving gifts on Eid Ul Adha also expresses all the great thoughts and emotions which are filled inside you. Gifting is a great way to show gratitude and thankfulness. By exchanging gifts on Eid Al Adha, it symbolizes love and care. This Eid Ul Adha, you can send fresh flowers to the doorstep of your loved ones through the best online flower delivery portal. Send your love and wishes to your family and friends with Eid Al Adha Flowers for a same-day delivery across UAE from the best online florist, Black Tulip Flowers.
Eid Al Adha Gift Ideas for your loved ones
Wishing your loved ones, a blessed Eid is a vital part of the celebrations. Gifting to kids and family members during Eid Al Adha is traditional and, honestly, we all love to bring gifts when being presented to spread the spirit of Eid every time we go. So here are the best Eid Al Adha gifts for different types of members in your family.
For your Parents
Fruits and Fresh Flowers Arrangements
Luxurious Eid Fruit Gift
Fruit Arrangement
Fresh flowers with fruits
Flowers with fruits is the best way to wish good health to your loved ones. There is nothing like an energizing fruit treat during summertime. What better way to express love to your parents by sending fruits with fresh flower gifts to enjoy.
For your partner
Eid Mubarak Pink Crescent
Eid Mubarak Green Crescent
Eid Special Gift Box
Eid Mubarak Lilly Wishes
Red roses in white box
Wife deserves something unique just for her and you can never go wrong with a beautiful flower bouquet full of the flowers she loves. Your wife will feel special and cherished upon receiving this beautiful Eid Ul Adha gift and you will actually be the motive to make her Eid even happier.
Specially for Kids
Crescent Sheep Cake
Strawberries chocolate
Eid Chocolate box
Passion fruits basket
Children get the most enthusiastic for Eid, they'll be joyful to meet all their family members and get dressed up in new clothes. Let your children have extra fun on this Eid Ul Adha and make them feel so special.
Are you looking for Eid Al Adha gifts to pamper your loved ones this Eid? then browse the variety of gifts at best online florist, Black Tulip Flowers.
Shop your favorite Eid Al Adha gift baskets and flowers bouquets and spread the happiness and joy of Eid with your loved ones.