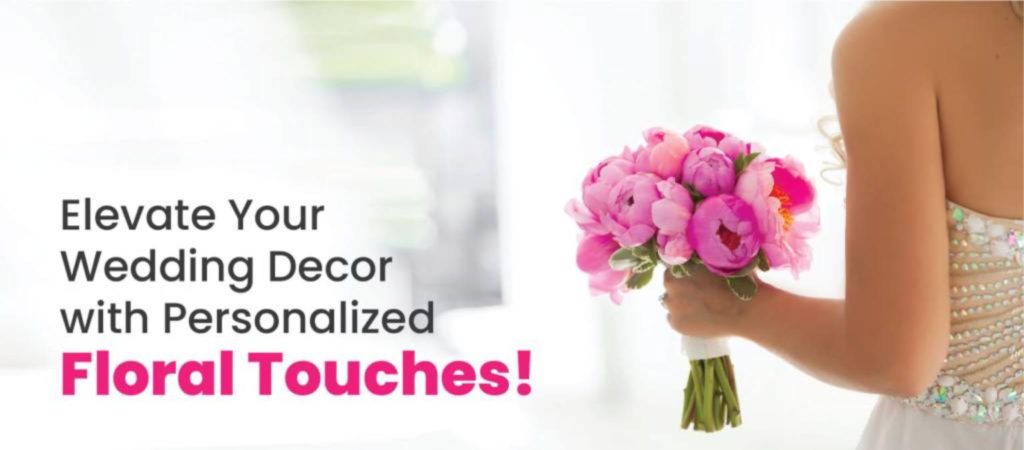 Elevate Your Wedding Decor with Personalized Floral Touches!
Flowers play an essential role in setting the tone and adding a touch of elegance to your wedding decor. Planning for your special day should be done with great care and attention, and there is no doubt that your wedding day will be spectacular with Black Tulip Flowers' floral arrangements. If you want to elevate your wedding decor with personalized floral touches, we are here to help!
Flowers are integral to any wedding, and choosing the right florist can make all the difference. If you're looking for a florist who can help elevate your wedding decor with personalized floral touches, look no further than Black Tulip Flowers – the best flower shop in Dubai.
Types of Personalized Floral Decorations for Weddings:
Personalized floral wedding decorations come in many different types, each catering to a unique style or theme. From centrepieces and bouquets to arches and aisle runners, there are endless possibilities to add a personalized touch to your special day.
Some popular options include:
Monogrammed lettering on tabletop arrangements, incorporating favourite blooms or colours into the designs, and designing arrangements that reflect the couple's cultural heritage or interests.
Hanging installations can create a stunning backdrop for exchanging vows.
Flower walls and chandeliers can also provide an elegant focal point for indoor receptions.
It's essential to work with a skilled florist like Black Tulip Flowers, who can guide you through selecting beautiful flowers that match your wedding style and budget. With careful consideration of these personalized touches, you'll create a lovely floral ambience that reflects the beauty and love between you as newlyweds on your big day! Moreover, our flower delivery in Dubai and Sharjah offers convenient same day delivery options to make a hassle-free delivery!
Tips for Adding Personalized Floral Touches into Your Wedding:
A personalized floral touch is one of the best ways to enhance your wedding decor. Black Tulip Flowers can work with you to create customized floral arrangements unique to your wedding. Here are a few ideas to consider:
Incorporate Your Favorite Flowers:
If you have a favourite flower or colour, you can incorporate it into your wedding decor. Furthermore, it allows you to express your style and create a one-of-a-kind celebration.
Your bouquet is essential to your bridal look, and you can create a customized bouquet that reflects your style and personality. We at Black Tulip Flowers create a bouquet with a mix of flowers or focus on a flower you love.
Personalized Centerpieces:
Your reception tables are a vital element of your wedding decor, and Black Tulip Flowers can create personalized centrepieces that tie everything together. Adding centrepieces that match the bridal bouquet or incorporate a unique theme you have chosen for your wedding will make your ambience great!
Flower walls have become increasingly popular for weddings, and creating a stunning flower wall customized to your preferences makes your wedding aesthetic. A flower wall can be used as a backdrop for your ceremony or as a photo booth backdrop for your guests.
Flower crowns are a beautiful accessory for bridesmaids and flower girls; creating customized flower crowns that match the wedding décor is a great choice. You can use a mix of flowers and colours to create a unique crown for each person.
Try our online flower delivery in Dubai to make your wedding decorations extraordinary by relaxing at your home!
How to Choose Personalized Floral Decorations for Your Wedding:
When choosing personalized floral decorations for your wedding, there are several factors to consider. Here are some choices that make your big day celebrations awe-inspiring:
Identify your wedding colour palette and theme. Choosing the perfect colour and theme will help you narrow down the types of flowers you want to include in your arrangements.
Consider the size and style of your venue. You want your centrepieces to be just right and overpowering in a smaller space.
It is vital to work with a professional florist who can offer guidance on which flowers are in season and what will stay fresh throughout the day.
Remember personal touches like incorporating meaningful family heirlooms or including unique elements like succulents or herbs for added texture and greenery.
By considering these elements, you can create truly personalized and memorable floral designs for your big day. You can also opt for our gift delivery services in Dubai to develop ever-loving memories with your dear ones.