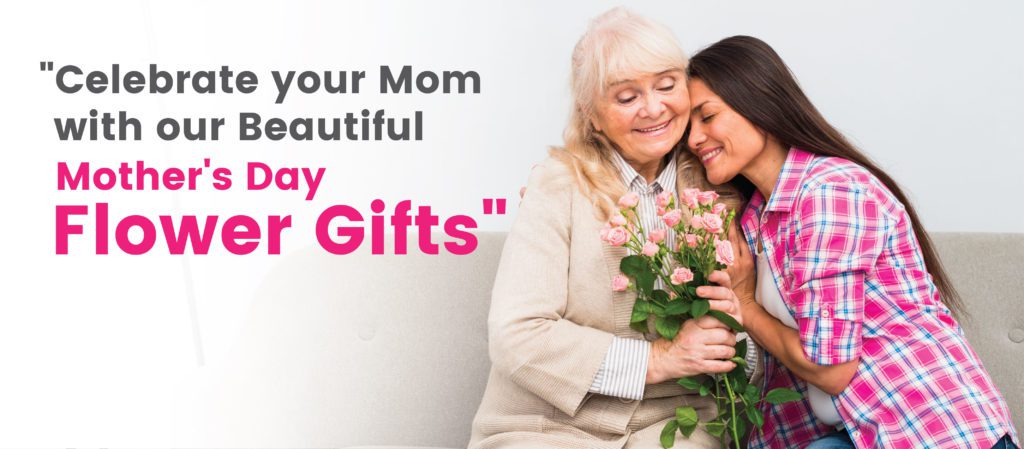 Celebrate your Mom with our Beautiful Mother's Day Flower Gifts
As the most important people in our lives, mothers should be showered with love and appreciation every day. There is no day more appropriate to celebrate their contribution to the world than Mother's Day. On this day, we should make sure to express our deep gratitude. One special way of doing this is to show them how much we care by gifting them beautiful Mother's Day flowers from Black Tulip Flowers.
Elegant and stylish Mother's Day flowers from Black Tulip Flowers will bring joy and brighten her special day. With a variety of nature's most exquisite blooms to choose from – including fragrant roses, cheery tulips, and tropical and exotic varieties – you can find just the perfect bouquet to show how much she is appreciated. We source the highest-quality flowers from our own lush green farms and arrange them with meticulous attention to craftsmanship and design. Avail Mother's Day flower delivery from Black Tulip Flowers and show your mom she is treasured this year with our adorable Mother's Day Flowers.
Great Ideas for Mother's Day Flower Gifts:
Are you looking for an ideal gift to show your appreciation on Mother's Day? Black Tulip Flowers has an extensive selection of attractive flower arrangements that make her day special. Our bouquets come in various styles and colour combinations, so you can find the perfect blooms to match your mother's personality and style. From classic roses and carnations to wild daisies and lilies, we offer something for every type of mom. Our thoughtful Mother's Day gifts are easy to order online and delivered straight to her door, or they can be purchased directly from our professional florists for an extra-special touch. Make this Mother's Day one she will never forget with a one-of-a-kind flower bouquet from our Mother's Day flowers in Dubai.
How Can you Make Sure your Mother Gets the Best Gift Possible?
When selecting a gift for your mother, it is important to consider her interests and tastes. It is also beneficial to choose a gift with sentimental value while ensuring it is also practical. Start by browsing online at the variety of products available from Black Tulip Flowers, taking into account any reviews or customer feedback as needed. When selecting a product, prioritize quality items and check out the discounts and coupons available. With this selection process in place and prior research done, you should have no problem finding the perfect gift for your mother!
Tips for Choosing the Best Flowers for Mother's Day :
When selecting the best flowers for Mother's Day from Black Tulip Flowers, start by researching their extensive catalogue of unique and beautiful floral arrangements. Additionally, our freshly cut blooms ensure she will enjoy her gift with a broad smile. Furthermore, ordering as early as possible is essential in order to ensure delivery on time and avoid disappointment while also taking advantage of exclusive discounts featured during Mother's Day. Add additional accents like chocolates, cakes, and teddies to personalize your floral gifts. With these tips in mind, you can choose an unforgettable Mother's Day bouquet that will be appreciated and remembered for years to come!
How to Choose the Right Flowers for a Mother's Day?
When selecting flowers for Mother's Day, Black Tulip Flowers has a wide selection of beautiful bouquets and arrangements. Whether you're looking for something traditional or modern, low-maintenance or luxurious, we provide the most exotic blooms to make your occasion more memorable. Consider factors such as the type of flowers she prefers, her interests and colour preferences when selecting an arrangement. Each floral arrangement also offers complimentary gifts like chocolates and cakes with a personal note to add extra fun to your mom! Our expert florists can help you find the perfect flower arrangement that will bring a smile to Mom's face on her special day. Order Mother's Day flowers in Dubai and cheer your day with our lovely flowers!
Ideas for Mother's Day Flower Arrangements:
Black Tulip Flowers proudly provide magnificent and exquisite floral arrangements to showcase your appreciation for any special occasion, including Mother's Day. Whether you want a bouquet of soft hues to display an emotional connection or a bright combination of different colours that expresses joy, our selection is sure to be perfect. Our range includes hand-tied bunches with vibrant blooms, seasonal collections of lily, gerbera and rose combinations and also delicate flower boxes as a more classic design. As part of our commitment to excellence, these unique designs are made with love by our professional florists, who utilize only the best-sourced flowers; each piece is one-of-a-kind. Order flowers and celebrate your mom with the fascinating blooms from Black Tulip Flowers!
Mother's Day Flower Delivery in Dubai!
Black Tulip Flowers offers an unparalleled range of exquisite Mother's Day flower delivery services in Dubai. Stunning arrangements with lovely roses, orchids, and tulips crafted by expert florists create a perfect way to express one's feelings for their beloved mother. All our bouquets are lovingly hand-tied using only the freshest blossoms available, meaning your floral gifts arrive fragrant and absolutely spotless. Additionally, with same-day delivery options and secure payment methods, we guarantee convenient access to high-quality blooms at an unbeatable price. Make your mom's day extra special this year by placing an order with Black Tulip Flowers!