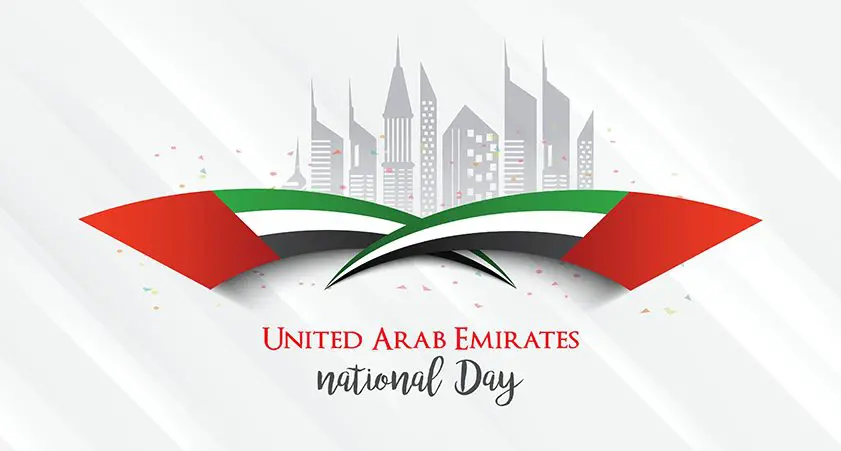 Send Flowers to Celebrate UAE National Day
The UAE flag represents meanings of justice peace, tolerance, power and moderation. People in the country celebrate the UAE Flag day every year on 3rdNovember to reaffirm their loyalty to Sheikh Zayed, Sheik Rashid and their brothers for their efforts to form UAE as one nation.
A number of lectures and competitions are organized about the history of the flag, its colors, and elements of national identity.
Celebrate this National Flag Day with online flowers delivery in Dubai.
National Day
The UAE National Day is celebrated every year on the 2nd December.
It stands for the nationalization of the emirates from British, which also marks the anniversary of the union of the seven emirates in 1971, and the 7th emirate Ras Al Khaimah in 1972.
National Day celebration in UAE
People usually dress up in UAE National Flag colours, decorate their houses, cars and offices and celebrate the day with joy and happiness.
With Black Tulip Flowers, one of the best online flower shop in UAE since 1990, you can send National Day Flowers online to anywhere in UAE.
The whole country celebrates the national day in a unique way and fireworks are displayed all over the country and everything including the streets of the country are decorated exclusively.
Flowers for National Day
Flowers marks happiness and this will be a best gift this 48th National Day in UAE.
Black Tulip Flowers with variety of flowers from all over the world, the best florist in UAE, sending flower gifts as fresh as they are made easy.
National Day Gifts
People all over the country celebrate the National day with abundance and exchange gifts to show their patriotism.
With Black Tulip Flowers to help you, you can order flowers online with varieties to choose from to express your joy.
You can select from the following:
National Day Happiness Bouquet is the perfect gift for this national day. The Bouquet comes in Standard, Deluxe and Premium sizes.
A standard size bouquet is a combination of 20 stems red roses, 10 stems green chrysanthemum, 10 stems white chrysanthemum, 10 stems black chrysanthemum, vase and message card.
The Bouquet can be customized with any gift of your choice like balloons, chocolates, etc.
UAE National Day Florist Choice

Celebrate this National Day with this bouquet of florist choice.  The Bouquet comes in three different sizes – Standard, Deluxe and Premium.
A standard size bouquet made from a combination of 5 stems white roses, 6 stems white carnation, 5 stems green chrysanthemum, 2 stems red anthurium, traditional basket and a message card
You can add a finishing touch by customizing it with a gift of your choice to be sent with the bouquet.

Majestic Burj Khalifa Flower
If you are looking for a something different or artistic, then the artistic handmade arrangement of Majestic Burj Khalifa Flower is a striking gift for this National Day.
This arrangement is available in three sizes – Standard, deluxe and premium and can be customized with extra balloons or any other gift.
A standard size arrangement contains 15 stems white roses, 15 stem red carnation, 10 stems green anthurium, 15 stems black carnation, vase and a message card.
Black Tulip Flowers supports same day flower delivery in Dubai and guarantees fresh flowers in UAE.
Order UAE National Day flowers online in Dubai with Black Tulip Flowers.
Black Tulip Flowers takes this opportunity to wishes the Nation a Happy National Day!