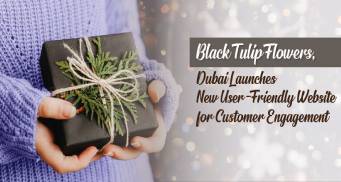 Black Tulip Flowers, Dubai Launches New User-Friendly Website for Customer Engagement
Black Tulip Flowers Dubai, a leading online flower delivery service in the United Arab Emirates, is super excited to announce the launch of its new user-friendly website. Black Tulip Flowers Dubai, this new platform, has been designed to provide an enhanced user experience and allow you to order flowers online for delivery in Dubai and across the UAE. We understand that we all lead an active lifestyle and may only sometimes have the time to visit our physical store. So, we have enhanced our existing website to make it easy for you to order flowers online and deliver them in Dubai and the UAE.
Buy Flowers from our new user-friendly website!
Our new website features a sleek and modern design, making it easy to navigate and find exactly what you're searching for! You can browse through our extensive selection of bouquets, arrangements, and gifts and filter your search by occasion and price range. Once you've found the perfect flowers, simply add them to your cart and check out using our secure payment system. We offer various delivery options to suit your needs, including same-day and next-day delivery. Our team of professional florists will carefully handcraft your order and ensure it is delivered fresh and on time to your desired location.
We have enhanced our website; you can send flowers online without hassles!
The new Black Tulip Flowers Dubai website features a clean, modern design and an intuitive user interface that makes it easy for customers to browse and purchase flowers. In addition to the improved navigation and search functionality, the new Black Tulip Flowers Dubai website also offers new special features for ease and convenience. For example, you can now create an account on the website to save the payment and delivery information, making it faster and easier to place future orders. The website also includes a user-friendly shopping cart that allows you to review and update your orders before checkout quickly.
Now, just log in to your accounts to view the status of your orders and receive updates on the delivery process through e-mail. You can place orders through phones as our new website is mobile-friendly. Buy flowers online through our social media channels, including Facebook and Instagram!
Black Tulip Flowers Dubai is committed to providing the best possible customer experience, and the launch of the new website is just one example of its dedication to meeting the needs of its customers. Whether you're buying flowers online for delivery in Dubai or sending flowers to a loved one across the UAE, Black Tulip Flowers Dubai is your go-to source for high-quality, fresh flowers.
You can opt for one of our pre-designed bouquets, which our florists have expertly put together flowers; we also offer a range of gift options on our website, including chocolates, teddy bears, and balloons. These can be added to your order as a special touch or purchased on their own as a stand-alone gift.
Our flower delivery in UAE fulfills your needs!
At Black Tulip Flowers Dubai, we deliver flower gifts to satisfy customer expectations, making them repeatedly purchase our products. Our team is available to assist and solve your queries! We are always happy and delighted to hear your suggestions or recommendations based on your needs.
So why wait? Head to our website today and start shopping for the perfect floral arrangement or gift. Our convenient online flower delivery service offers beautiful flowers straight to your doorstep or a loved one in the UAE.
Additionally, to make it easier for you to access our website, we have launched a brand new short version of our website URL as btf.ae. Simply type it in, hit enter, or tap go, and you will be instantly redirected to the main BlackTulipFlowers.com website.
Follow us on social media platforms to get regular updates, special offers, and inspiration for your next gift or event. Make your special occasions more memorable with our online flower delivery, and we are waiting to serve and help you with utmost care.
Visit the new Black Tulip Flowers Dubai website and place your order today! Send a thoughtful and unique gift, or simply brighten someone's day with a beautiful bouquet of flowers! With its wide selection of flowers, convenient ordering options, and excellent customer service makes sending flowers online easy and brings a little joy to the people you love and care about!