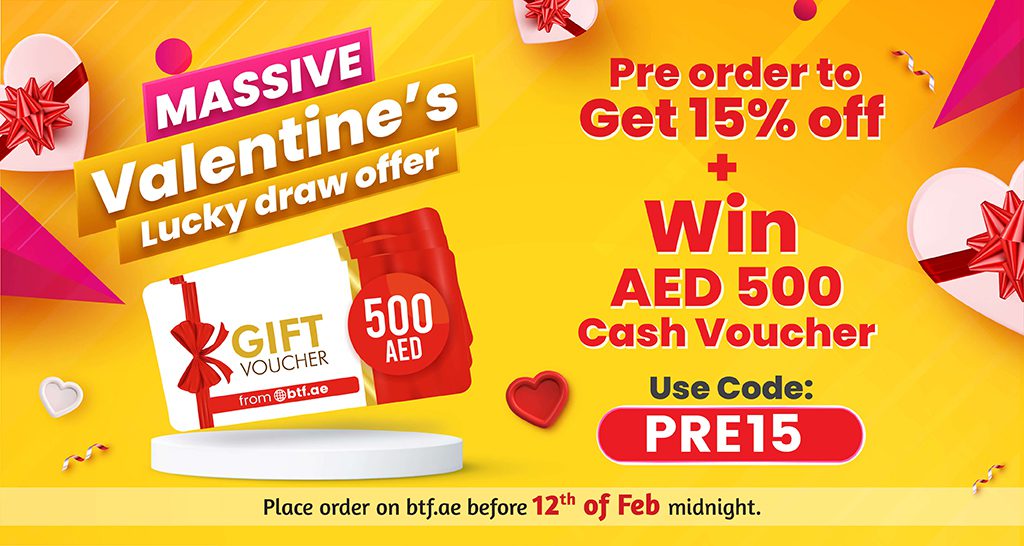 Spread the Love with Our Valentine's Day Pre-booking Contest!
What is Our Pre-order Promotion
Here's an amazing opportunity to save and win exciting offers this Valentine's Day! Pre-order your Valentine's Day gifts from Black Tulip Flowers and avail 15% OFF. Additionally, you'll be entered into a lucky draw to win an AED 500 cash voucher. Black Tulip Flowers is offering unbeatable Valentine's Day deals this year with pre-order promotions. Pre-ordering your gift allows you to avoid the rush of last-minute purchases and beats the price rise due to high demand.
Why Participate in our V-day Contest
     Get 15% OFF on all our Valentine's Day products; simply enter the coupon code at checkout to avail our exciting discounts on your total purchase. You'll get a chance to enter our Lucky Draw and Win an extra AED500 to make your Valentine's Day celebrations even more special. Hurry and book the best designs before they run out, and you can get the best designs before prices rise due to high demand. Above all, peace of mind is guaranteed, as these products come with complete satisfaction.
How to Participate
All you have to do is make sure to follow us on @blacktulipflowersuae for more offers and place an order prior to midnight of February 12th, using either one of the coupon codes: "PRE15" or "LUV15". Two lucky winners will be selected by Lucky Draw on the 13th of February.
Note: For clarity in our pre-order campaign, we are offering two coupon codes based on where you heard about us. If you heard about this campaign on Instagram, then please use "PRE15", or if you saw it on YouTube, please use "LUV15". Both coupons provide the same discount and will enrol you on the pre-order Valentine's Day contest.
Where to use/ how to order
With just a few clicks, you can make your Valentine's Day even more special. So do not wait and get started now. Here are some of the categories to which you can apply the pre-order coupon:
Take part in Black Tulip Flowers UAE's Valentine's Day pre-order contest and stand a chance to win AED500! You're not only getting the chance to win an amazing prize but also to show your loved ones how much you care with a beautiful bouquet of flowers. Make your special day even more memorable with our luxurious Valentine's Day gifts by entering the lucky draw today!
Best of Luck! Happy Valentine's Day!