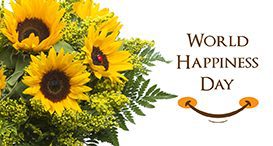 International Day of Happiness Flowers
Happiness day, better known as International day of Happiness is celebrated on 20th March every year globally.
Another name for happiness – yes it is Flowers. The sight of flowers makes everyone happy and are the best choice of gift for the International Day of happiness, especially the yellow colour.
Black Tulip Flowers takes pleasure in helping its customers to celebrate the International Happiness Day by sending Happiness Day Flowers Dubaito their friends, family member or colleague.
About the International day of Happiness
When people all over the world started to realize that not only growing the economy makes the world better, but making everybody happy makes the world a better place to live.
UN General Assembly, in the year 2011,passed a resolution that acknowledged Happiness as a fundamental human goal. This led to the first Happiness conference, a year later. In 2013, UN General Assembly, with the support of all 193 member countries declared the Happiness event would be held annually and March 20 would be celebrated as the International day of Happiness.
Theme of International Happiness Day 2020
The theme for this year is, – "Happiness for all, Together", Happiness is always around when people are together.
Happiness Flowers
Even though any flower makes everyone happy, there are some flowers to make the International day of happiness more special and they are Red Roses, Tulips, lilies, Orchids and carnations.
Happiness is all around us and in every small thing.
With Black Tulip Flowers, it is easy to send International Happiness Day Flowers to your special ones online.
Happiness Day Flower Gifts
Try some of the unique International happiness day specials from Black Tulip Flowers, the best online florist UAE to spread happiness this International happiness day 2020:
Joyful Hand Bouquet
• This 20 stems of yellow spray roses uplifts the mood of the receiver and spreads happiness.
Smiley Bouquet
• Give the ultimate joy to your loved one this happiness day with a smiley bouquet.
Yellow Tulips Time
• The beauty of this is the 100 bright yellow tulips in a bunch will multifold the happiness and smile in the receiver's face which can be cherished for a long time.
Cheerful Tandem
• This bouquet as the name says brings the cheers back when your loved one receives it.
• The 30 stems of yellow tulips with 2 bunch of white Hydrangeas make a perfect combination to make your loved ones day brighter and happier.
The International Day of Happiness comes with a theme every year and spreads the happiness all over the world. As the saying by Dr. Mark Williamson – "This International Day of Happiness is more than just a fun celebration, it also remind us all that the world is a better place when we connect with and care about the people around us".
We are surrounded by happiness in every small thing and we should take initiative to make the happiness contagious.
Visit our full product rangeof Happiness Day Flowers online to choose from and send for your special one.