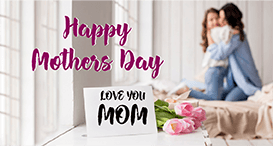 Mother's day is celebrated on 21st March every year in UAE
Mother's day is celebrated on 21st March every year in UAE.
The purpose of this day is to honor the mother in your life and in general the motherhood.
As the saying by one of the best American poet and the preacher of the 19th century, "No language can express the power and beauty and heroism of a mother's love", mother's love is powerful and eternal.
Make your mum feel your love and affection towards her by sending Mother's Day flowers & plants online Dubai.
Make your angel happy with the mother's day flower delivery.
Mother's Day Celebrations
Mother's day is celebrated all over the world but in different dates. Arab countries celebrate it on the 21st of March every year which is the start of the spring. This marks a new beginning to our lives with the love and affection of mother.
A mother is the only person in the world who loves you unconditionally, easily forgets all your mistakes and accept you as you are.
Cheer up all the mothers – not only your mum, wife, your friend who is a mum, your sister, daughter, grandmother this mother's day by sending Mother's Day Flowers & Gifts.
Mother's Day Gift
Fresh, beautiful flowers always helps our mind to relax. Try the varieties of mother's day bouquets and flowers from Black Tulip Flower this mother's day 2020 and send them online without any hassle.
Visit our full product range of Mother's Day flowers & plants to choose from and send for them.
Don't miss a chance to see the beautiful, priceless smile and peace in your mom's face – select from:
• Hand Bouquet of Heartfelt Roses
• Sun Flower Bouquets
• Bunch of mix flowers with pink Hydrangeas
• Tulips
• Bunch of Chrysanthemum
• Phalaenopsis Purple Plant
• Anthurium Plant or any other flowering plant
"A mother's happiness is like a beacon, lighting up the future" never miss a chance to appreciate the motherhood, which is breathe of the world.
Not only flowers, any gift under the sun will make the mothers happy and Black Tulip Flowers have special gifts to choose for Mother's Day Flowers and gifts.
With Black Tulip Flowers Dubai, it is easy to wish a Happy Mother's Day for all the mothers in UAE and around the world and celebrate motherhood.
As many people in the world say – God gave me the best mother who always knew exactly what I needed, I feel that is the secret of every mom and she is the only person who knows the A to Z of us.
Say Happy Mother's Day with a smile in your face and thank her for everything she gave you in your life.
Celebrate this mother's day to celebrate the motherhood and womanhood around the world.
Say it with a bunch of her favorite flowers – "Happy Mother's Day to the greatest Mom ever! Even though I don't say it enough, I really appreciate all that you do for me every day".