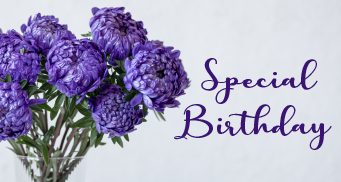 Top 5 Popular Birthday Flowers
Flowers are the most classic and best birthday gift to send on your dear one's birthday. The gift of any flower is surely cherished, but some blooms are just better for birthdays than other flowers. We believe the miracles of flowers come from both their natural attraction and their inspirational symbolisms. The best thing about these flowers is that no matter their shape, size or colour, they are the perfect gift for a variety of life's special occasions and everyday moments. Are you looking for flowers in Dubai? Don't worry, you can find your floral needs from us, log on to our online portal Black Tulip Flowers Dubai.
Rose
Roses are the perfect birthday flower for a reason, the list of the top flowers for any event or occasion would be incomplete without the rose. The beauty and aroma of roses makes them a perfect birthday flower. Roses come in a variety of sizes, shapes, and colours and each colour comes with its own meaning. Here are some colours symbolising of rose flowers;
Red Rose symbolises passionate love
White Rose symbolises innocent and purity
Pink Rose symbolises love and happiness
Yellow Rose symbolises pure friendship
By giving the rose as a birthday flower, you are telling your dear one that they are unique and beautiful, and also it shows how much you love and care your dear one. We have wide range of birthday flowers collection, choose from our online portal, the best florist in UAE, Black Tulip Flowers Dubai.
Luxury Bunch of Deep Purple Rose
Yellow Bliss
Box of Blooming
Lily
Lilies are one of the world's most popular and easily recognisable blooms. They look stunning and beautiful in flower bouquets and they are long lasting too. Lily makes an ideal birthday flower for those who have a lot of desire and passion in their lives, it also signifies pleasure and positivity. Choose from the symbolisms of each colour and gift to your dear one a wonder lily bouquet on their birthday.
White lilies symbolize purity and love.
Pink Lilies symbolize prosperity and abundance.
Orange lilies symbolize happiness and loyalty.
Choose the birthday flowers and colours you want and send birthday flowers to your loved ones, from the best online flower shop Dubai, Black Tulip Flowers Dubai.
Treasured Pink Lilies
Astounding Lilies
Wonderful Lilies
Tulip
For birthdays in spring, Tulip bouquets are the perfect birthday gift. Tulips represent beauty in its purest and flawless form. There's nothing like a tulip bouquet or arrangement to add a picturesque to your birthday flower. Well, we think any colour of tulip bouquet would receive a warm welcome because tulips are always classic flowers in the flower list.
White Tulips symbolizes forgiveness.
Yellow Tulips symbolizes happiness and hope.
Red Tulips symbolizes deep love.
Purple Tulips symbolizes royalty and elegance.
Choose our birthday flowers online collection of tulips and make your dear one's birthday unique with one of the leading online flower delivery Dubai, Black Tulip Flowers Dubai.
Elegance of White
Eye Staring Wooden Arrangement
Mixed Flower Bouquet
Sunflower
When it comes to birthday flowers, sunflower is one of the most vibrant flowers you can choose from. Sunflowers will be great choice for birthday gift because the larger and fluffier kind makes the perfect birthday flowers. It's no surprise that the sunflowers provide inspiration for visual artistry and it has a beauty and evenness that's seldom seen and also the radiant and vibrant colour almost seem to have their own beauty. Here are some symbolisms of sunflowers;
Yellow Sunflowers symbolizes truth and honesty
Orange Sunflower symbolizes cheerfulness and good fortune
Order birthday flowers from Black Tulips Flowers Dubai and give the best gift to your dear one on their birthday. Don't worry a birthday without cake is not a celebration, we offer delicious and yummy cakes for your dear one's birthday, you can also add chocolates balloons and other birthday gifts from the best flower shop in UAE, Black Tulip Flowers.
Be My Sunshine
Sunflower Box
Mixed Flower Bouquets
Orchid
Orchids have always been one of the most popular and royal flowers and it is a classic flower by itself because of its bold colour and unique shape combinations. The splendid and exotic orchid flowers make wonderful birthday flower bouquets and arrangements. Each colour of Orchid conveys a meaningful message;
White Orchid symbolizes beauty and elegance
Pink Orchid symbolizes royalty and admiration
Yellow Orchid symbolizes deep friendship and new beginnings
Send best birthday flowers online from best florist in the industry Black Tulip Flowers Dubai, we deliver it with care and love.
Nostalgic Bouquet
Love Language
White Appeal
All flowers are beautiful in their own way, from flower bouquets, arrangements and wholesale flowers we truly offer all your floral needs. Also, all our flowers are directly from farms, so we only provide the fresh and high-quality flowers, send high-quality birthday flowers online with Black Tulip Flowers Dubai.
We offer variety of other gifts to celebrate your dear one's birthday, yummy chocolates, delicious cakes, balloons, and many more. Log on to our online portal for more birthday gifts and birthday flowers and make your celebrations unique, send fresh flowers online with Black Tulip Flowers Dubai.