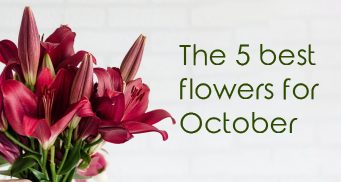 The 5 best flowers for October
October the month of autumn is a beautiful time of year; it brings cold weather, changing leaves and some flowers begin to bloom. October, such a perfect month of the year, expect only the bright and vibrant flowers to grace us! Find the perfect flower to gift to your dear one or to make your room aromatic and vibrant. Not only gifting flowers to your dear ones, but you can also make your home aromatic and fresh by keeping flowers in your room.
Alstromeria
Alstroemeria, one of the long-lasting flowers, comes in stunning shades of rose, purple, pink, and many more. With a wide range of colours and symbols attached to them, alstroemerias become a perfect choice for many occasions. Let them be good luck flowers for your dear ones, you can choose a wide range of collections from our online portal Black Tulip Flowers Dubai.
• Pleasant Off White
• Alstromeria Bouquet
• Mix Alstroemerias
Rose
Classic and elegant roses are an all-time favourite flower of everyone; this classic, aromatic blooms never go out of trend. Rose bouquets are the best gift when expressing your love, so remember to always choose fresh and high-quality roses for your unique moments. Make your unique moments even special with the best florist in the industry. Black Tulip Flowers Dubai.
• Simply White
• Pink Champagne
• Luxury Bunch of Deep Purple
• Yellow Bliss
Chrysanthemum
Pleasingly versatile and heavy blooming, chrysanthemums are perchance the perfect October flower. Because of their admiration, you can find these flowers in a wide range of sizes and colours such as orange, red, shades of pink and white. Each season brings a new opportunity to send chrysanthemum bouquets to your dear ones, send flowers from the best online florist in Dubai, Black Tulip Flowers.
• Flower Vibes
• Basket of Mix Flowers
• Be Mine Bouquet
• Mix Happiness Bouquet
Sunflower
Sunflower radiates beauty and signifies strength and unity. They are the cheeriest sunny flowers and bring happiness instantly. Sunflower bouquets are always the best gift for your dear ones in any season or occasion, choose fresh and stunning sunflower bouquets from the best florist in Dubai, Black Tulip Flowers.
• Sunflowers in a Vase
• Bunch of Sunflowers
• Be My Sunshine
• Sunflower Bouquet

Orchid
Orchids attract you with their beauty and they are considered to be an expensive and luxury flower and certainly a good gift to your dear ones. Orchids are an ideal choice for gifts or home décor or any occasional event; their positive colours and unusual spots on the petals enhance their beauty. Celebrate everyday moments with us, choose from a variety of flower arrangements or bouquet collections from our online portal Black Tulip Flowers Dubai.
• Nostalgic bouquet
• White Appeal
• Love Language
• Artistic Centrepiece
Flower gifts make any celebration a lot more memorable as it is, and it also tells your dear ones you care for that they mean a lot to them. Send flowers to your dear ones, online flower delivery anywhere in Dubai, Black Tulip Flowers.
Flowers are the perfect choices for gifts as well as indoor decors, so order them from our online portal Black Tulip Flowers Dubai, for fresh and high-quality flowers.